Meet the Ontario Dog Trainer Team
At Ontario Dog Trainer, we have over 50 years of combined experience working with dogs and their owners to create canine companions that people can love for life. Our team easily connects with dogs and their owners, earning their trust to enhance their learning experience.
Founder & Chief Woof Officer 
Dogs aren't just a passion they are a lifestyle for Karen. Karen has loved dogs all her life. She began training retrievers for competitive field trials in the mid-1980's and achieved field championship titles on several of her dogs, and has been loving, training and educating dogs ever since.
Karen believes that when you train the brain, you change the dog. The complete solution to dog behaviour problems recognizes that dogs are living, sentient beings with personalities as unique as their owners. She focuses on relationship first with both dog and owner, to positively influence behaviour; to enhance connections, and to provide motivation to the highest level of performance.
Karen believes in giving back to the canine community who has given her so much joy and success. She has served on the Board of Directors for the International Association of Canine Professionals (IACP) as President, Director and currently serves as a volunteer on several committees. She's certified to the highest level within the IACP, earning and maintaining the following credentials: Certified Dog Trainer (CDT), Certified Dog Trainer Advanced (CDTA), and Professional Dog Trainer Instructor (PDTI). She is also a Canine Nutrition Specialist graduate of Dogs Naturally University.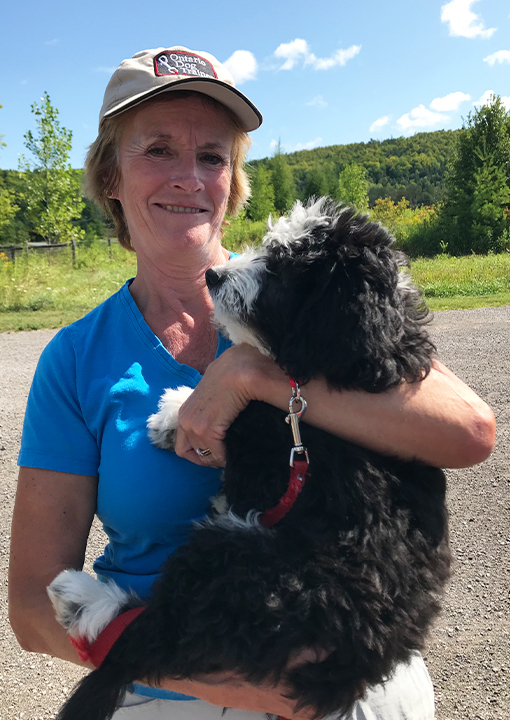 Karen trains her personal dogs and clients' dogs to enable enjoyment in public places wherever dogs are allowed. She understands that dogs' personalities are as individual and unique as those of humans and works with each dog and owner as the unique individuals that they are. She believes that dogs' are natural healers and provide therapy for people in need of someone to love and to love them back. She trains dogs for certification as therapy dogs to bring joy and comfort to those who are unable to have their own dog.
Karen currently lives with an ever-changing and dynamic pack of canines that currently includes a Pomeranian, Havanese, Cattle Dog, and Belgian Malinois.
Summary of Karen's Credentials:
Training dogs for pets and competition for almost four decades.
Canine Nutrition Specialist
Certification to the highest level with the International Association of Canine Professionals (IACP):
Certified Dog Trainer (CDT);
Certified Dog Trainer Advance (CDTA);
Professional Dog Trainer Instructor (PDTI).
Completes recertification every two years. Recertification requires proof of successful completion of continuing education courses recognized and approved by the IACP Education Committee, including attendance at the annual IACP educational conference.
Karen has attended every IACP conference since 2010 and was a speaker/presenter in 2017.
Presentation History:
2016: Understanding Remote Collar Use – 5 days
2016; 2017: Instructor and speaker at Trainers United Summit: Presentation topics included:
Know Your Style; Accelerate Your Business Growth – Recognizing and Understanding Personality Styles
An Introduction to Remote Collar Training
2017: Speaker at IACP annual educational conference.
Summary of Continuous Education and Professional Development:
2012 – 2016, hosted annually: Pack to Basics with Chad Mackin: a 3-day hands-on workshop to understand canine communication; and pack dynamics to learn safe approaches to canine interaction and large field socialization.
2012 – 2017, hosted annually: Relationship Based Behaviour Modification (RBBM), with Nelson Hodges: 4-day introductory workshop building the canine-human bond through a relationship first approach.
January 2018, Relationship Based Behaviour Modification (RBBM), Arlington Texas, with Nelson Hodges: 9-day Advanced Immersion training course that takes a deeper dive into the psychology of building the canine-human bond through a relationship first approach. Students select and live with a husky from Texas Husky Rescue,that has been deemed unadoptable due to behaviour related issues. At the end of the program, students report on behavioural transformations achieved or observed with the dog. Recommendations for the dog's future, including a profile of suitable adopters is also presented. Adoption for these huskies formerly labeled as unadoptable is greater than 75% within three months of completing the program.
June 21-23, 2019, Introduction to Service Dog Training, Riverside California, with Leslie Horton, Certified Service Dog Trainer and Coordinator for Americans with Disabilities: A hands on introductory course for Professional trainers wanting to learn how to select and train service dogs; applicable legislation, public access standards and the principles and approaches for task training.
September 26 to October 5, 2019, This Able Veteran Training Academy, Carbondale Illinois, with Behesha Doan: Karen qualified to enrol in and complete this highly specialized program. The course focuses on understanding Post Traumatic Stress Disorder (PTSD) as an essential piece to understanding what a veteran or person suffering from trauma needs and feels, and how a service dog can benefit them. This intense two-week course provides hands-on dog training for service work, and classroom work, covering PTSD, the struggles and behaviours associated with psychological injuries, and how service dogs fit into the recovery picture. Enrolment to this program is by selection only, according to credentials and years of experience as a successful canine professional in the area of behaviour transformation for dogs and their owners.
March 16-20, 2020, Seymour, Missouri: The Bart Bellon NePoPo Training School, Silver Level
Katrina joined the Ontario Dog Trainer team as a seasonal member in 2016. Katrina has a confidence with dogs that earns their trust and enables her to utilize her grooming skills to keep our students looking and feeling their best while at school. When she's not performing her virtual asistant duties, Katrina is studying media arts at college.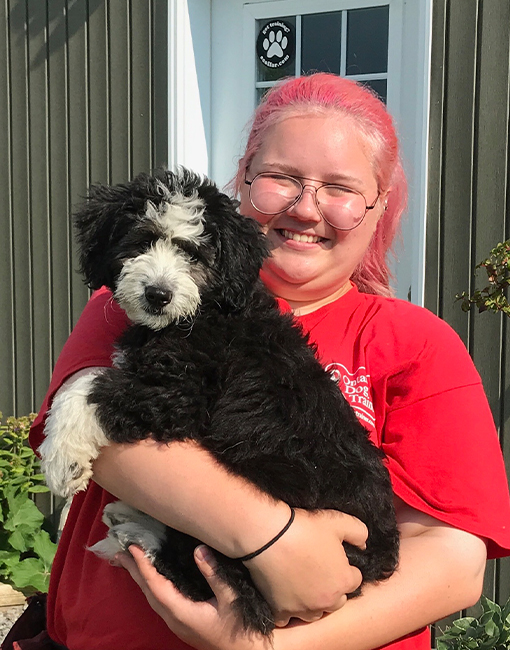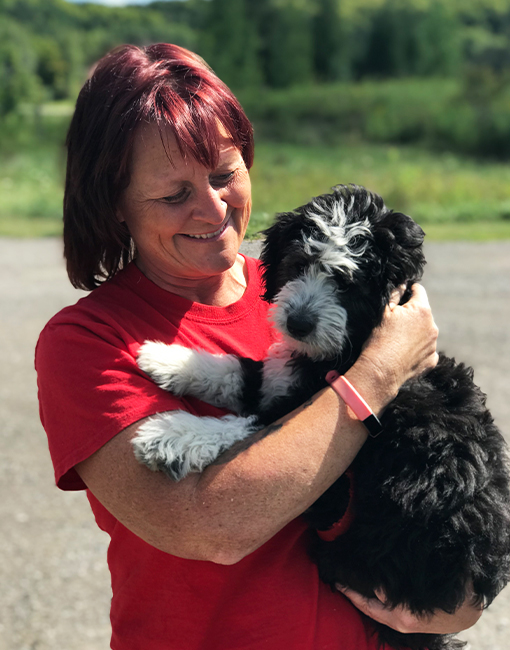 Tammy joined our team in 2019. With a strong background in child and youth support, she has a unique ability to form trusting relationships with people and with dogs. Tammy has worked successfully with dog rescue organizations to transform troubled dogs into solid canine companions. 
Interested in joining the Ontario Dog Trainer team?
We're always looking for a love for dogs, a positive attitude, the ability to hustle, and a commitment to excellence! If this sounds like you, please get in touch with us. Click the link below or contact us at info@ontariodogtrainer.com