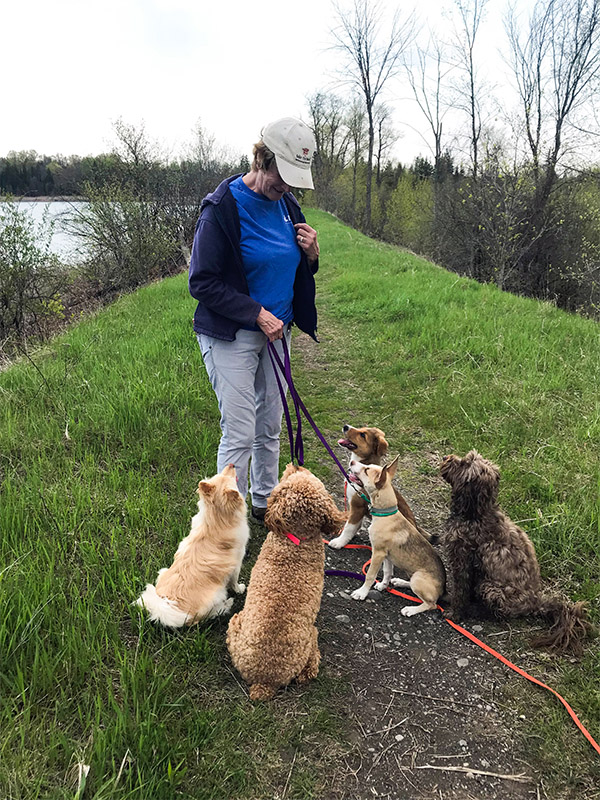 DOGGY DAYCARE – IS IT RIGHT FOR YOU?
A friend recently confided to me that she was embarrassed to be taking her dogs to Doggy Daycare on their usual days during the COVID-19 crisis. She felt that because she and her husband were working from home due to COVID requirements, they should be providing for their dogs.
One of the biggest challenges during any disruption to your schedule is to maintain a routine that closely resembles 'normal' – especially when it comes to your pet! While things are slowly transforming into what has or will become 'normal',  many people continue to work from home.
KEEPING IT REAL!
If Daycare was part of your dog's 'normal' routine prior to COVID and you have the resources to continue, then do it! Your dog will be happy for the break away from home … and you may enjoy it more than you realize!
While our lives may never entirely return to pre-COVID 'normal', there are some things that we can do to benefit our furry friends. Enabling your dog to socialize safely with his or her pals at Doggy Daycare may provide a boost in morale for both of you!
CHOOSING THE BEST DOGGY DAYCARE for you and your dog
If you are NEW to Doggy Daycare be aware that not all facilities are the same. Be as vigilant in choosing a Daycare provider for your four-legged family member as you would be for your child.
When researching a suitable Doggy Daycare for your dog, you may not be allowed to physically enter the facility due to COVID restrictions. Many top-rated Doggy Daycares provide virtual tours of their facility through their website. When you take the tour, look for the following things. Be sure to ask for written confirmation of each. If the owner/manager will not provide their daily operational protocols in writing, go elsewhere:
Top Tips for Choosing the Best Dog Daycare
Top Infrastructure Safety Features:

Ventilation for safe, clean, breathable air
Proper heating/cooling depending on the season,
Proper fencing (height, strength, completeness for the safe containment of daycare dogs),
Double gates to allow for acclimation before your dog enters the play area;
Safe flooring to prevent injury from slippage.
Closed-circuit cameras to continuously monitor playgroups, and staff-dog interactions.

COVID-safe cleaning and disinfection protocols
2. Play Groups and Staff Ratio/Expertise:
Procedure on how dogs are grouped or separated appropriately by age, size, temperament.

Please note that Doggy Daycares are NOT Dog Parks.
Play it safe, even if your small pup routinely plays with larger breeds at the local dog park. The dog park environment and the daycare environment are very different. In a dog park, your dog can run and escape, but in a daycare environment that has four walls or smaller contained fenced areas, your dog may not have that option.

Suitable dog to staff ratio to ensure the safety of all dogs. This ratio depends on staff experience and skillset. The average is 15 dogs per staff person.
Staff expertise and experience.
Guided and/or enrichment activities that include hikes, fungility, and/or group leash walks. If you want to see improvement in your pup's behaviour, ask if day training is an option.  Don't just accept a doggy free-for-all. This chaotic approach will not be beneficial for your dog and may lead to behaviour problems later.
3. Toys and Treats
Toy policy: Are toys allowed in the yard or on the floor? If yes, how are the dogs managed to prevent fights?
Note that some dogs can be very aggressive with other dogs, particularly when they have a toy they think is theirs. This behaviour may not be evident at home, particularly if your dog is your one and only!
FLAG If you know your dog isn't going to get along with another dog or dogs with toys,
Be sure staff will keep a careful eye on your pup.
Treat policy. Know how you can be assured that your dog will or will not receive treats, according to your wishes.
You may also want to look for a Daycare that offers to board so that your dog will have a familiar place to stay when you are on vacation. You will have peace of mind knowing that your pooch has safe and comfortable accommodation when needed.
4. Value and Accessibility
Value – You get what you pay for. The cheapest is not always the best or safest value. Do your homework to be sure that you get the BEST for your BEST FRIEND now and long after the COVID crisis is behind us!
Accessibility and Customer Service – In addition to the above, find a facility that is easy to get to, has convenient hours and is transparent with its policies and procedures. You will not continue If it is a hassle to get to and to drop off and pick up your dog. In addition to the well being of your dog, you must feel comfortable with the customer service. After all, you are the real client, your dog is the beneficiary of the service.