Frustrated by your dog's disobedient and unruly behaviour?
Voted Best Dog Trainer by Readers Choice
three years in a row 2020-2022.
If you are ready to take the next step to create the dog of your dreams, click below and let's get started today.
I'm Ready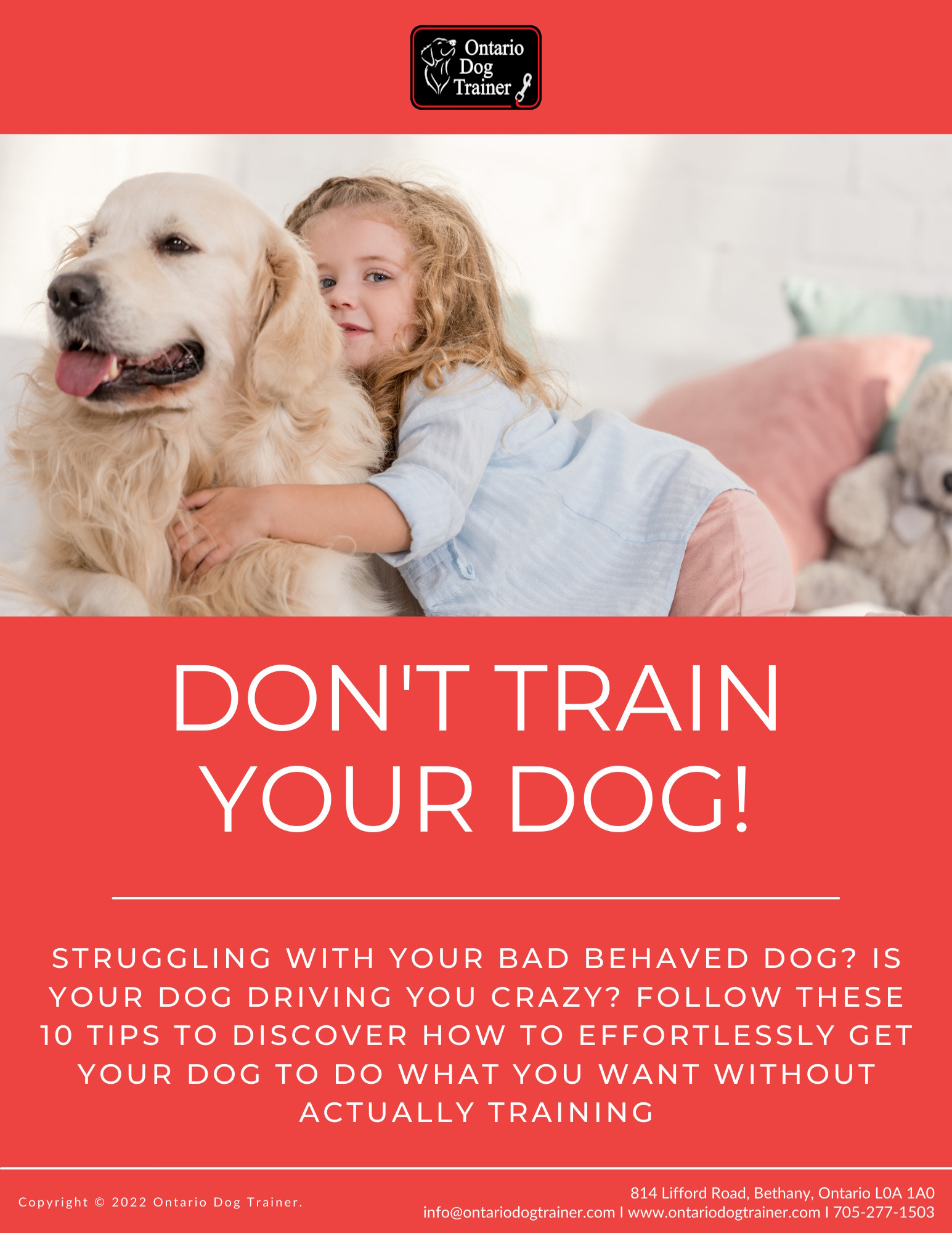 Take the Lead

®

 to the dog of your Dreams!
At Ontario Dog Trainer, we believe that there are no bad dogs, only confused dogs. Whether you just adopted a new-to-you dog, a shelter dog, brought home a puppy, or want to brush up your adult dog's training, there are important skills we can teach you and your dog to prepare your pooch for a lifetime of clarity, good manners and companionship.
Thoroughly understanding how a dog communicates is the first step to solving and preventing the most common dog behaviour problems.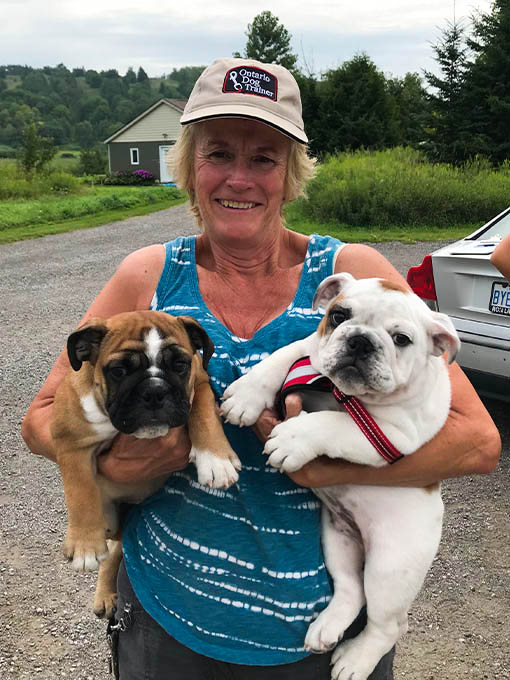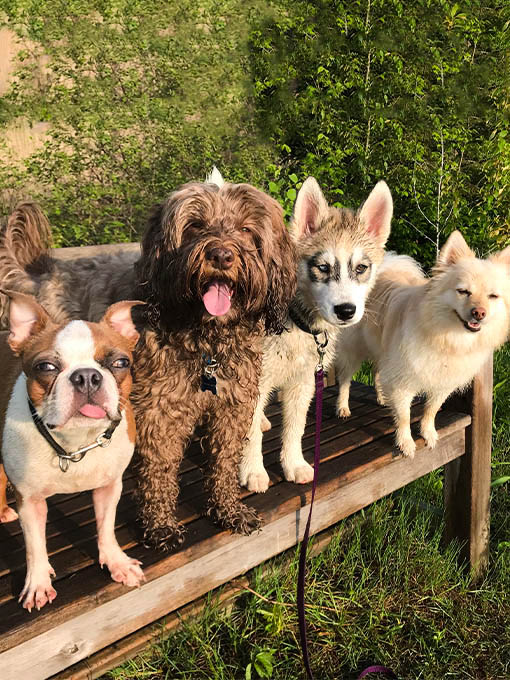 Are you frustrated by your dog's naughty behaviour?
Excessive barking
Ignores your call
Pulling on the lead
Lunging or jumping inappropriately
Displaying aggression
Struggles with socialization
Biting
Digging
Displaying fear or anxiety
Chewing furniture or other objects
Inappropriate excitement
Separation anxiety
Does this sound like your dog's behaviour? If so, learn how to experience the world through your dog's eyes. At Ontario Dog Trainer we teach you to see the world as your dog sees it. When you can see and feel what your dog feels, you can connect on a deeper level. At ODT, you will learn to 'talk dog' to address your dog's unwanted behaviour, without fear, force or aggression, with hands-on techniques, education, leadership training and practical exercises through the four unique programs we offer.
Establish yourself as the pack leader
If your dog could speak, it would say: "Lend me your eyes and I will change what you see." Most dog owners believe it's their dog that needs training.
At Ontario Dog Trainer, we teach you to see things differently. We teach you how to see the world through your dog's eyes! The training and connection with your dog ultimately has to come from you. When you see things through your dog's eyes, the 'training' becomes connection rather than conflict. Dogs live in the micro – they see everything – they even see you do things that you don't even know you did! Your dog is responding to your cues, whether you know it or not and will always act to ensure its safety and survival. If you're not acting appropriately, they surely won't.
Pack leaders are always aware of the actions and behaviours of their pack. Learn how to calmly establish yourself as the leader by 'tuning in' to your dog and giving the clear signals it understands – in 'dog talk'. Then once you are a worthy leader in the eyes of your dog, we'll be in a position to start transforming their behaviour.
Respect, clear communication and rewards work together to create a mutually enjoyable and cooperative way to live with and enjoy your dog, whatever your goals.
30 years of effective training methods
We are always studying and learning how to be better for our dogs and their owners. For 30 years, our proven approach emphasizes patience and consistency, leaving your dog happy, well-balanced and doing what a dog does best—being a best friend and an enjoyable member of your family. Our training experts will help you ensure your new pup or dog lives his best life.
We have great videos to learn from – check them out on Youtube and TikTok.
Can you imagine your dog behaving like this?
Enjoying walks, on and off leash
Off-leash freedom
On-leash manners
No more digging
Cooperative attitude
Behaving in public places
Polite house manners
Calm 'meet and greet' and engagement with friends, family and strangers
Fun play dates and sociable behaviour around other dogs
Staying safe and 'out of the way' by going to and staying in one place on command.
We've got your (and your dog's) back! If you feel a mixture of relief and excitement from just reading this, imagine how you'll feel when you see your dog's behaviour rapidly transform to become your Dream Dog after only a short time working and training with our team! Our training classes fill quickly, so give us a call or read about our programs for more information.
Comments From Our Satisfied Clients:
"Riley has become a really good and obedient dog. He is a real joy and I owe all that to the training that you provided. I thank you very much for that, it has made all the difference."
~ Anne
Comments From Our Satisfied Clients:
"Karen and her team was amazing. My english bulldog Winston was experiencing anxiety and didn't know how to behave. She gave me the tools to change these behaviors and he is a different dog. I don't know what i would do without her help! Highly recommend!"
~ Jessica
Comments From Our Satisfied Clients:
"Excellent training for our puppy and us, Karen and staff were excellent."
~ Vince
Comments From Our Satisfied Clients:
"Thank you for your help with Marvin. We are amazed at the difference already… is that possible? The 2 hours we spent with you has already paid off."
~ Rita
Comments From Our Satisfied Clients:
"Great facility with trainers who are world class."
~ Rodney
Comments From Our Satisfied Clients:
"Highly recommended! Her staff and especially Karen are top notch! Too bad I didn't find you sooner!"
~ Laura
Ontario Dog Trainer Facility
​Our campus is nestled in the middle of 100 serene, rural acres. We're located within 20 minutes of several small towns. The proximity to both rural and urban environments gives us the access and ability for daily training practice and real-world adventures, both on and off leash.
Our training happens everywhere—outdoors, in our heated/ air-conditioned classroom, in our cozy home-like office, and on everyday adventures that your dog enjoys once he is ready to be on- and off-leash in new places. Your dog will love it here!