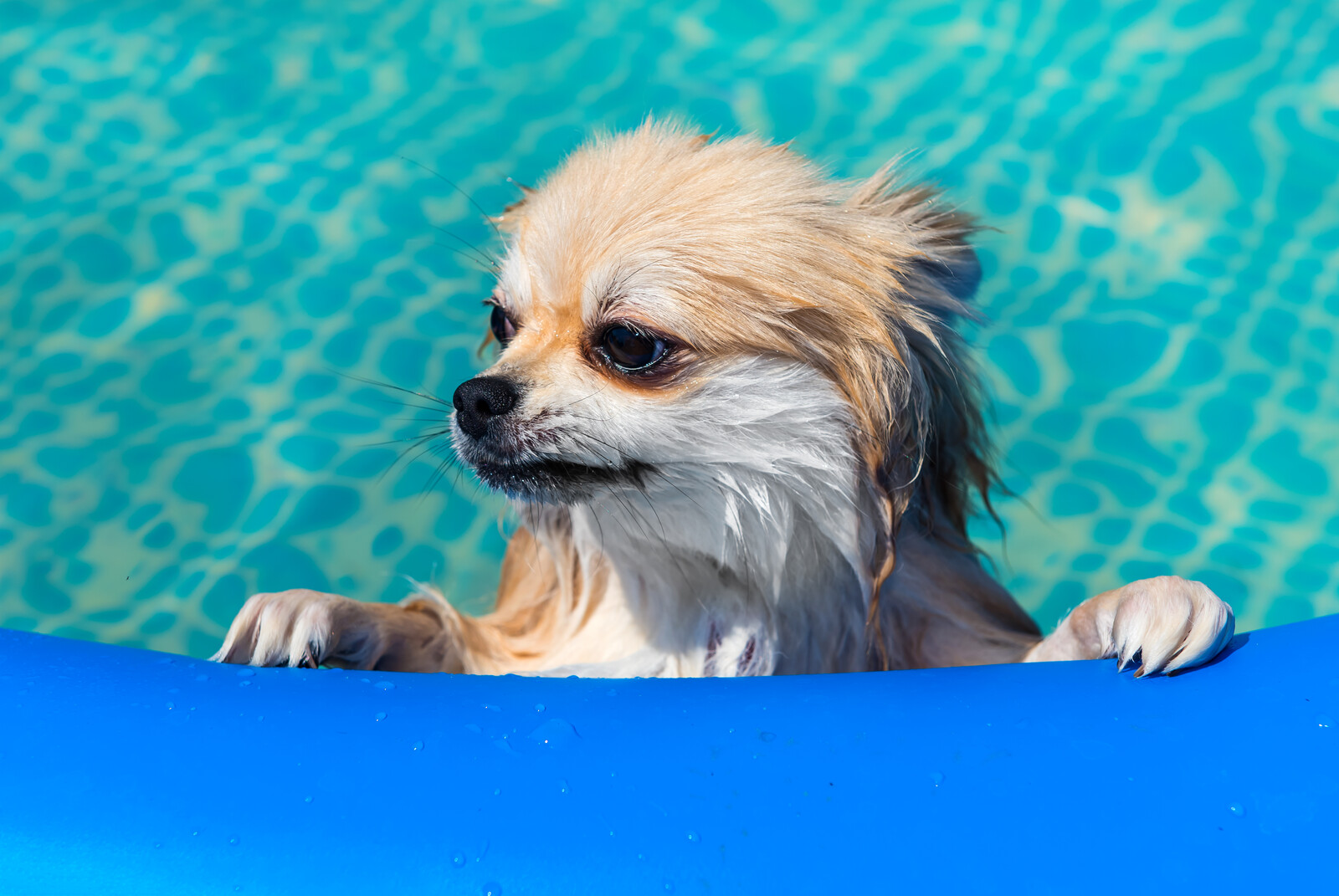 Introduction
With the scorching summer sun shining bright, it's essential to take extra precautions with your pets to protect them from extreme heat. Dogs are susceptible to heatstroke, a potentially life-threatening condition, during hot weather. In this blog post, I'll offer some important summer tips to recognize the signs of risk from heat and to help you beat the heat to ensure your dog stays cool, comfortable, and safe.
Click here to download your copy of the Summer Heat Survival Guide
Ten Signs that Your Dog is at Risk of Heatstroke
While it's crucial to know how to respond to heatstroke, prevention is always better than cure. By taking proactive measures during summer, you can minimize the risk of your pet falling victim to heat-related illnesses. The most crucial action is to monitor the temperature where your dog is resting or playing and know the signs of heat stress before the situation becomes serious.
Heatstroke is a serious condition that can quickly become life-threatening for dogs. It's essential to be able to recognize the symptoms so that you can take immediate action to prevent a tragedy. Here are ten common signs that your dog is at risk of heatstroke: 
Excessive panting and rapid breathing

Dogs regulate their body temperature through panting, but when they are experiencing heatstroke, their panting becomes exaggerated and more rapid than usual. 

Excessive drooling and salivation

Heat-stressed dogs often drool excessively. Their saliva may be thicker and stickier than normal. 

Bright red gums and tongue

The gums and tongue may appear bright red or even purple, indicating poor oxygen circulation. 

Weakness and fatigue

Dogs suffering from heatstroke may become weak, lethargic, and unsteady on their feet. They may struggle to walk or even collapse. 

Vomiting and diarrhea

Heatstroke can cause gastrointestinal distress, leading to vomiting and diarrhea. The vomit may contain foam or be tinged with blood. 

Increased heart rate

A dog's heart rate may be significantly elevated due to the strain on the cardiovascular system caused by heatstroke. 

Dry and tacky gums

Instead of the normal moist and pink appearance, a dog's gums may feel dry and sticky to the touch. 

Dizziness and disorientation

Dogs with heatstroke may become disoriented, confused, or show signs of staggering. They may appear dazed and have difficulty maintaining balance. 

Tremors or seizures

In severe cases, heatstroke can lead to muscle tremors or even seizures. These neurological symptoms are a serious indication of a critical condition. 

Unresponsiveness or loss of consciousness

Heatstroke can cause a dog to become unresponsive or lose consciousness. This is a severe sign of heatstroke and requires immediate emergency care. 
It's important to remember that heatstroke can progress rapidly, and a dog's condition can deteriorate swiftly. If you notice any of these symptoms, it is crucial to take immediate action to cool your dog down and seek veterinary assistance. Early recognition and prompt intervention are key to preventing further complications or fatalities. Understanding the signs of heatstroke and being proactive in addressing them can help safeguard your furry friend's health and well-being during the hot summer months.
Click here to download your copy of the Summer Heat Survival Guide!
Stay Safe – Taking Action to Cool Your Dog Down
When you notice any of the symptoms mentioned above, it's essential to take immediate action to help cool your dog down and prevent their condition from worsening. Here's what you can do: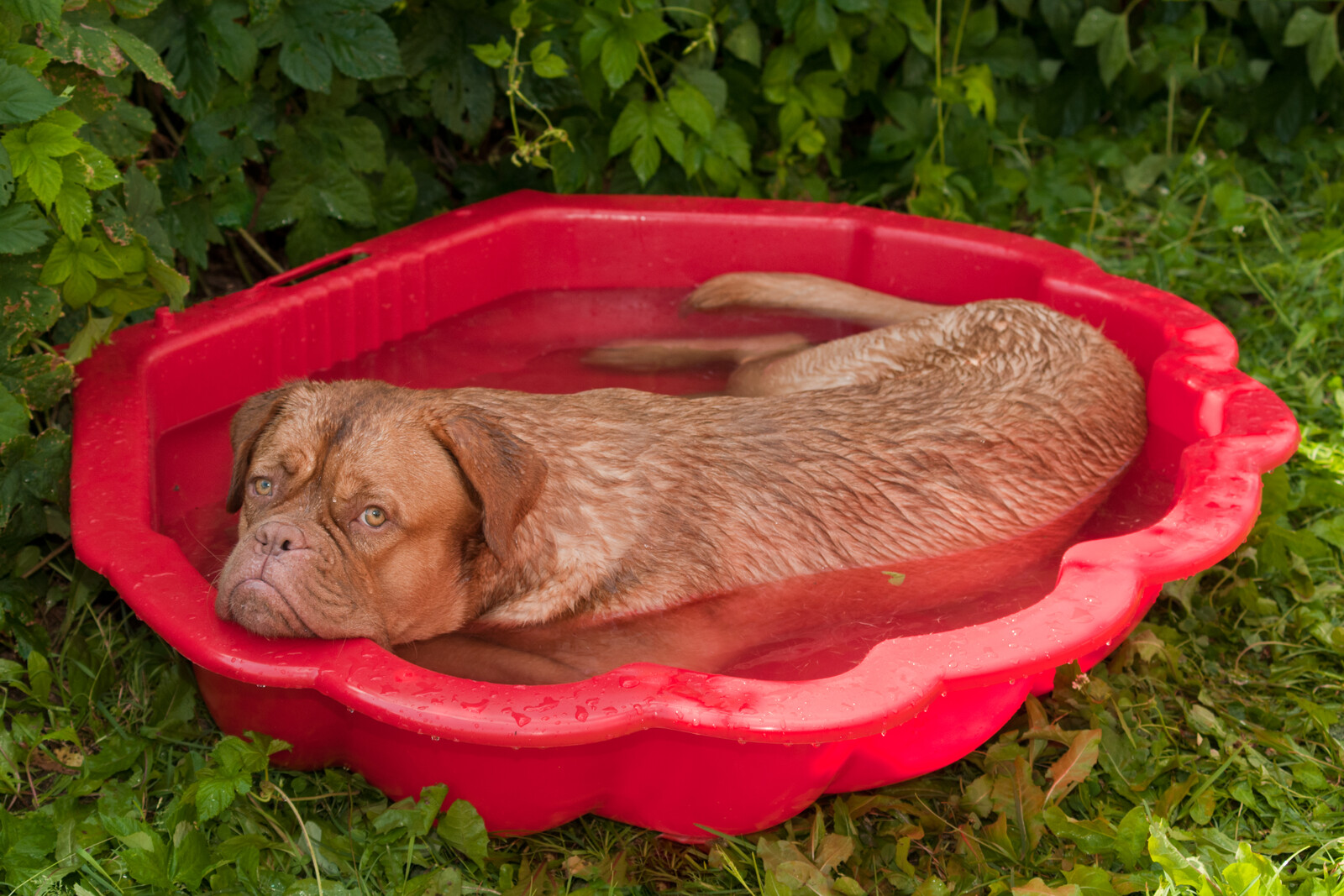 1. Find a Shady Spot and Provide Water
Move your dog to a cool, shaded area away from direct sunlight. Ensure there's plenty of fresh water available for them to drink. You may also consider placing a wet towel or cooling pad for your dog to lie on, providing some relief from the heat.
2. Use Cold Water and Ice Packs
Gently wet your dog with cool (not icy cold) water to help lower their body temperature. Focus on areas with less fur, such as the belly and paws. You can also place ice packs wrapped in a towel against your dog's body to help cool them down gradually.
3. Contact Your Veterinarian
Heatstroke is a medical emergency, so it's crucial to contact your veterinarian immediately. They can provide further guidance based on your dog's condition and may recommend bringing your furry friend in for a check-up.
4. Monitor Your Dog's Temperature
While you're taking steps to cool your dog down, keep an eye on their body temperature. If possible, use a rectal thermometer to check their temperature periodically. It should ideally be between 100.5°F and 102.5°F (38°C and 39.2°C). If the temperature remains high or continues to rise, despite your cooling efforts, it's crucial to seek immediate veterinary assistance.
5. Transporting Your Dog Safely
If you need to transport your dog to the veterinarian, it's important to do so safely. Avoid leaving them alone in a hot car, as temperatures can soar rapidly, leading to further heat-related complications. Ensure the vehicle is well-ventilated, and use air conditioning or open windows to keep the environment cool during the journey.
Five Tips to Keep Your Dog Safe in the Summer Heat
By taking proactive measures during summer, you can minimize the risk of your pet falling victim to heat-related illnesses or worse. Here are some tips to keep your dog cool and safe during the hot summer months: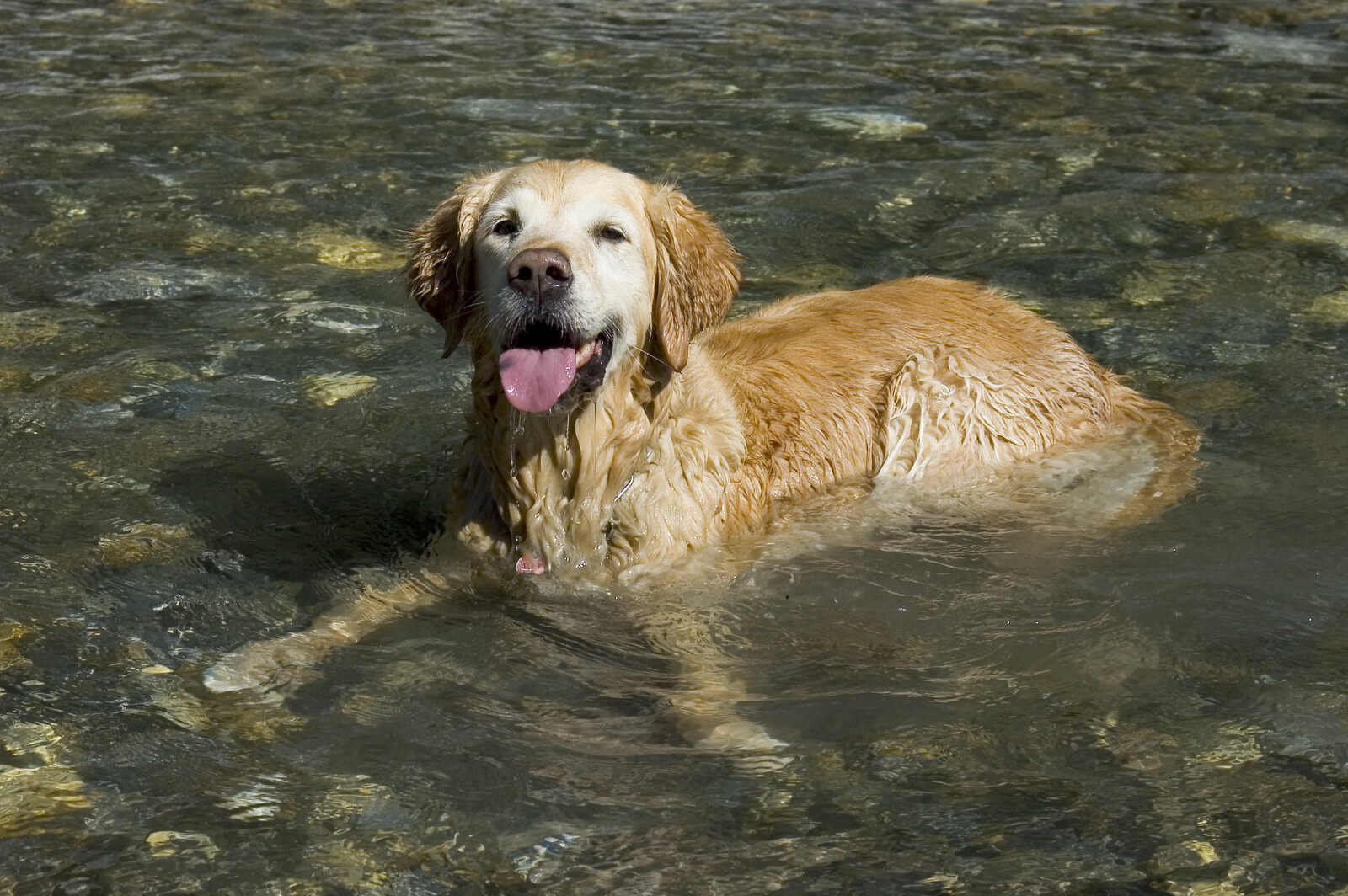 1. Provide Ample Shade and Water
Ensure your dog has access to shaded areas throughout the day, especially during peak heat hours. Set up umbrellas, use tarps, or create a sheltered spot where your dog can seek refuge from the sun. Additionally, always have multiple water bowls available and refill them with fresh, cool water frequently.
2. Limit Exercise in Extreme Heat
Avoid strenuous exercise or outdoor activities during the hottest parts of the day. Schedule walks and playtime in the early morning or late evening when temperatures are cooler. Remember, dogs may have difficulty expressing when they're overheated, so it's important to be proactive in preventing excessive exertion.
3. Cool Indoor Environment
Keep your home cool by using fans, air conditioning, or natural ventilation. Create a comfortable space for your dog indoors and out, where they can relax and escape the heat. You can also use cooling mats or elevated beds to provide additional relief.
4. Never Leave Your Dog in a Parked Car
Leaving your dog in a parked car, even for a few minutes, can have deadly consequences. On a hot day, the temperature inside a car can skyrocket within minutes, leading to heatstroke and even death. Always bring your dog with you or leave them at home in a safe, cool environment.
5. Grooming and Hydration
Regular grooming helps in managing your dog's coat during summer. Brushing helps remove excess fur, allowing for better airflow and reducing the risk of overheating. However, avoid shaving your dog's coat too short, as it acts as insulation against both heat and sunburn. Additionally, consider providing frozen treats or ice cubes to keep your dog hydrated and refreshed.
Conclusion
With the summer season upon us, it's crucial to prioritize your dog's well-being and protect them from the dangers of heatstroke. By recognizing the symptoms, taking immediate action, and implementing preventive measures, you can help keep your furry friend safe, cool, and comfortable during the hot summer months. Remember, your dog relies on you to ensure their health and happiness, so stay vigilant, be prepared, and enjoy a fantastic summer together!
Click Here To download your copy of the Summer Heat Survival Guide.
References –
https://vcacanada.com/know-your-pet/heat-stroke-in-dogs – Krista Williams, BSc, DVM, CCRP; Ernest Ward, DVM