Relationship Based Behavior Modifications PLUS Advanced Canine Language Seminar
(Early bird pricing ends September 25th!): October 20 – 22 - Register Now
Lost Dog Recovery Seminar With Nelson Hodges: October 19 - Register Now
The Ontario Dog Trainer - Karen Laws
Take the Lead with your dog instead of letting your dog take the lead from you.
Are you irritated by your disobedient dog?
Does your puppy ignore your call and leave you frustrated?
Is your dog struggling with socialization around humans and other fellow four legged friends? Does your dog show aggression and fight with other dogs?
Worse yet — does your dog or puppy love to lunge or jump on your company or passers by?
Have you ever worked with a trainer in the past and gotten less than ideal results?
Does your dog experience separation anxitey while your away?
If the answer to any of these questions is yes, then you need Karen Laws,
The Ontario Dog Trainer!
Contact Karen Now!
Take the Lead and Imagine … you and your dog in this picture!
Enjoyable walks – on and off leash
Off leash freedom
On leash manners
No more digging.
Polite house manners
Calm 'meet and greet' with friends, family, and strangers.
Sociable behaviour around other dogs
Going to and staying in one place on command!
From Our Blog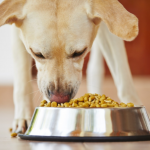 On our previous issue, we have discussed regulations of the pet food industry and... Read More
---
Commercial dog food has changed considerably over the years. When I trained my Labs... Read More
---
I receive a number of inquiries from people struggling with dog reactive behaviour towards... Read More
---
Karen's Boarding School for Dogs
Do you want your puppy to be the dog of your dreams, but don't have the time to do the work? Register your dog or puppy for Karen's Boarding School for Dogs for as little as two weeks. During that time your dog will receive individual, personalized dog training to become the pooch of your dreams!
As an added bonus, I offer lifelong support for all boarding school graduates … for as long as you own your dog. I want YOU to have the dog of your dreams...for as long as you live together !
(See My Guarantee; some conditions may apply.)
Ready to get started training your dog? Karen makes it easy:
Call Karen: Learn how you can have the dog of your dreams!
Register for your Pack Leader Session: Register with Karen today! You'll be amazed as your unruly dog's behavior is transformed, right before your eyes. And … your dog will be happy the entire time!
Karen is the dog training expert that people have turned to for
over 30 years!
Simply put, she successfully transforms your dog's behavior when others have failed!
Contact Karen Now!